Állítólag már két éves kora óta drag quennek öltözik az a 10 éves brooklyni kisfiú, aki legutóbb a New York-i divathéten, a provokatív ruháiról ismert Gypsy Sport kifutóján lejtett végig. Desmond Napolesnek, vagy ismertebb nevén Desmond is Amazingnek nem ez volt az első ilyen jellegű szereplése, korábban fellépett a New York-i Gay Pride-on, helyet kapott RuPaul videójában és aktív tagja az LGBTQ (Leszbikusok, Melegek, Biszexuálisok, Transzneműek, Queerek) közösségének is.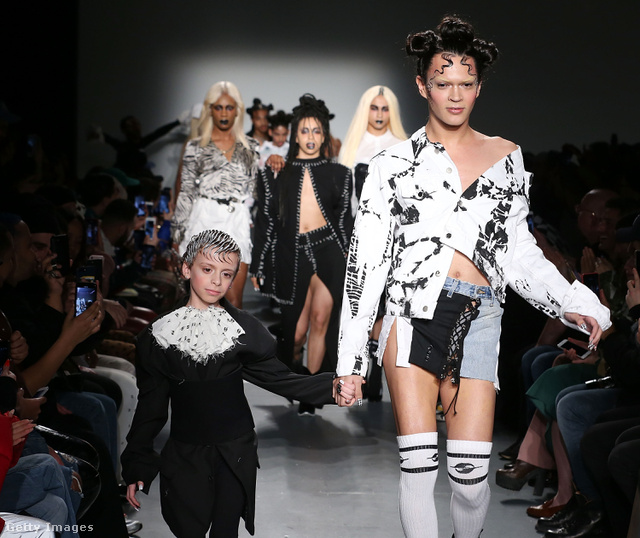 Desmond Napoles a Gypsy Sport kifutóján.Fotó: Jemal Countess / Getty Images Hungary
A közel 35 ezer Instagram követőt számláló transzvesztita kisfiúnak már most vannak tervei a jövőre nézve, szeretne egy ruha és kozmetikai márkát indítani, illetve létrehozta a Haus of Amazing oldalt, mellyel a hozzá hasonló gyerekeken szeretne segíteni és inspirálni őket, hogy bátran felvállalják szexualitásukat. A klubba tartozó fiatalok körében a szexuális zaklatás és az öngyilkosság megelőzése sem tabutéma.
A Daily Mailnek elmondta, hogy egészen kis kora óta szeret különféle ruhákban, parókákban és az anyja magassarkú cipőiben járkálni. Ötévesen még Barbiekkal, videojátékokkal, térképekkel és egyéb játékokkal babrált, de hatévesen minden megváltozott azzal, hogy meglátta a Jégvarázs Elsájának jelmezét. Ezután már csak hercegnő jelmezeket és női ruhákat kért, mikor a szüleivel vásárolni mentek.
Desmond szülei aggódtak amiatt, hogy mások esetleg bánthatják gyereküket, ezért konzultáltak egy terapeutával, aki azt tanácsolta nekik, hogy a legjobb, ha nem tesznek semmit és hagyják, hogy fiúk a számára legtermészetesebb módon fejlődjön, felfedezze a saját ízlését a ruhákban, játékokban vagy egyéb tevékenységekben.
Tízéves kora ellenére egyébként kifejezetten "avant drag" a stílusa, legnagyobb inspirációinak például RuPault, Andy Warholt és Keith Haringet tartja, de szereti a 70-es évek diszkó korszakát is. A divattervezők közül hozzánk hasonlóan szereti a Comme des Garconst, az Alexander McQueent, Vivienne Westwoodot, John Gallianót, Thierry muglert és Betsey Johnsont.
"Az emberek különféle módon táncolnak, énekelnek vagy öltözködnek. A lényeg, hogy képes legyél kifejezni magad, ahogyan csak szeretnéd. Nem számít, hogy jazz vagy rap, balett vagy bálterem, ruha vagy öltöny. Lényeg, hogy képes vagy rá" – vallja Desmond, aki hatéves kora óta balettozik, továbbá az Iconic House of UltaOmni legfiatalabb tagja.
A Haus of Amazing a közelmúltban egy nyílt levelet küldött a "gyűlölködőknek" olyan pozitív üzenetekkel, mint például a "Nem tudsz megváltoztatni" vagy a "Tisztában vagyok azzal, hogy ki vagyok.". Annak ellenére, hogy Desmons az LGBTQ közösség aktív tagjaként részt vesz a különféle prevenciókban és projektekben, szülei hangsúlyozzák, hogy fiúk szexuálisan még nem aktív.
Feltételezhetően még hallani fogunk a bátor kisfiúról, akit ide kattintva követhetsz be az Instagramon, ha akarsz!